The concept of Le Domaine du Centaure – Unusual bed & breakfast in Normandy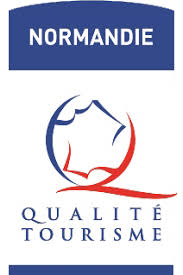 The quality of our guest rooms was rewarded in early 2018 by the label Normandie Qualité Tourisme.
Why create a bed & breakfast in a Domespace?
ecology, authenticity and conviviality
First, the idea was born from a personal desire to change lives to return to healthier values ​​and more authenticity in our daily lives.
Moreover, Karen likes receiving and welcoming people to her place.
Bruno having fallen in love with the Domespace concept a few years ago, the sensation of warmth, well-being and serenity that it provides, we had the idea to reconcile these two desires and to invite you to share with us an ecological way of life and closer to nature in this unusual and yet very comfortable house.
We hope that the Domaine du Centaure's bed & breakfast will allow you to relax "out of time", in an architecture that creates a unique and relaxing atmosphere.
The Domaine du Centaure's bed & breakfast is centered around three themes: ecology, authenticity, conviviality.
Ecology
Domespace is an all-wood architecture that strongly limits our footprint on the environment.
Its cork insulation is both ecological and very efficient. Its shape and rotation limit the impact of the wind on the indoor temperature while allowing maximum enjoyment of the sun through the many large roof windows.
In addition, heating is provided almost exclusively by a pellet stove whose heat is diffused throughout the house by means of a double flow ventilation.
All these features combine to provide inside the dome and its rooms softness and well-being.
To limit wastage, the lights are primarily LED, controlled by motion detectors and timers in places of passage.
Authenticity
We would like to share with you our enthusiasm for local products during breakfast.
By advising you to take walks or nearby sites, we invite you to enjoy simple moments, in a relaxing environment.
Conviviality
More than a place where we sleep, we see the B&B as a place of conviviality where it is pleasant to exchange and enjoy the small plasures of life.
Talk around a tea, share a billards play, tarot or a board game with people you did not know the day before …
Simply slow down, settle down, in a warm … and unusual setting!